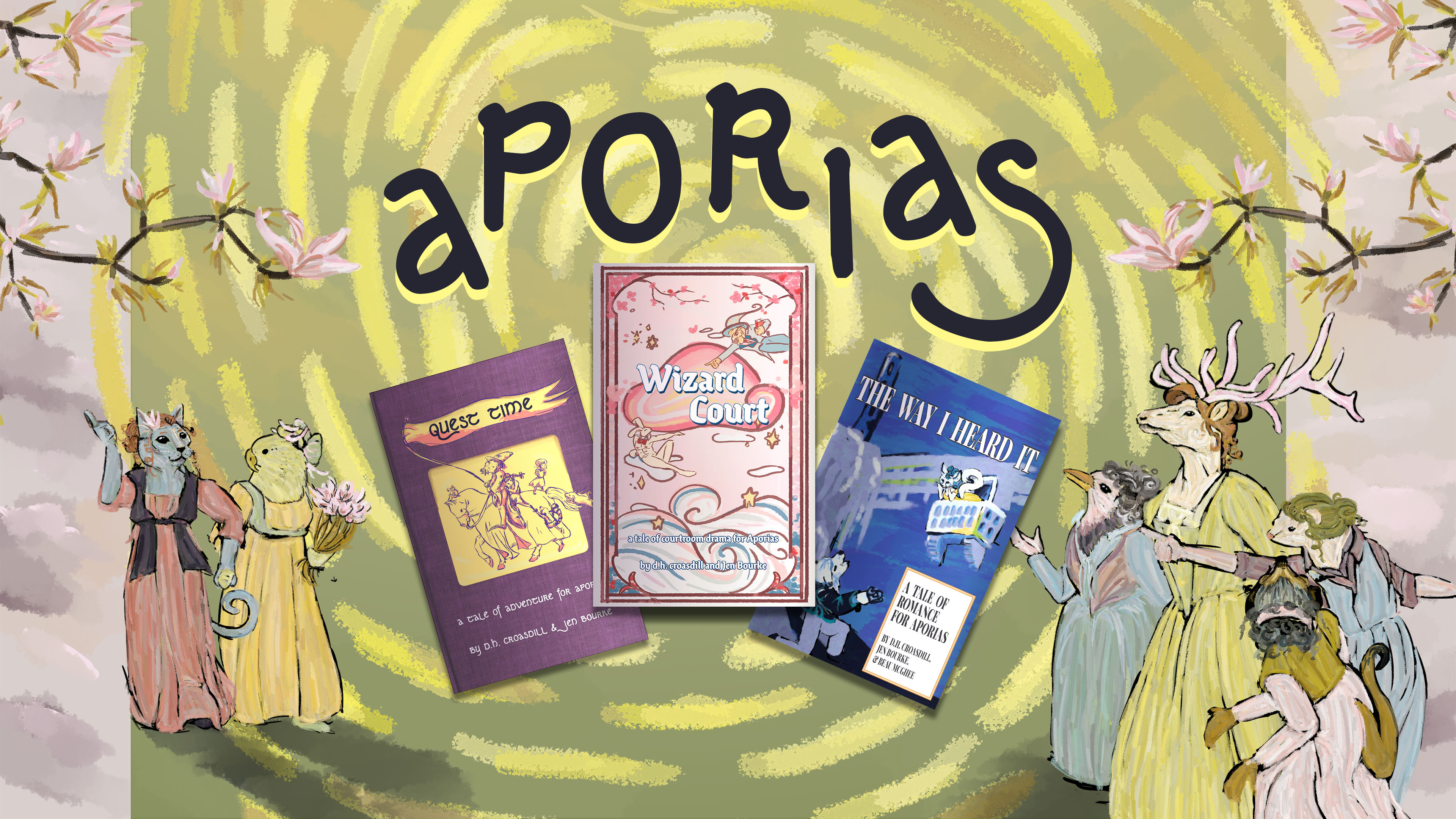 Aporias
Aporias DEMO
_________________________________________

Aporias is a GMless, anthology roleplaying system and supplement about making up some people who are fated to cause problems for each other, and then telling stories about their antics.

In this game you can:
Create a pool of character sheets, so each player may pick a new character each week
Pick a new role, or Hat, for the character you've chosen that week
Play any of our handmade adventures, called Tales (included as additional zines!)
Use this as a narrative supplement for other games (i.e. D&D, Apocalypse World)
Testemonials:
"It's fun." - Ty Cobb
"Better than d&d" - my dad, if he cared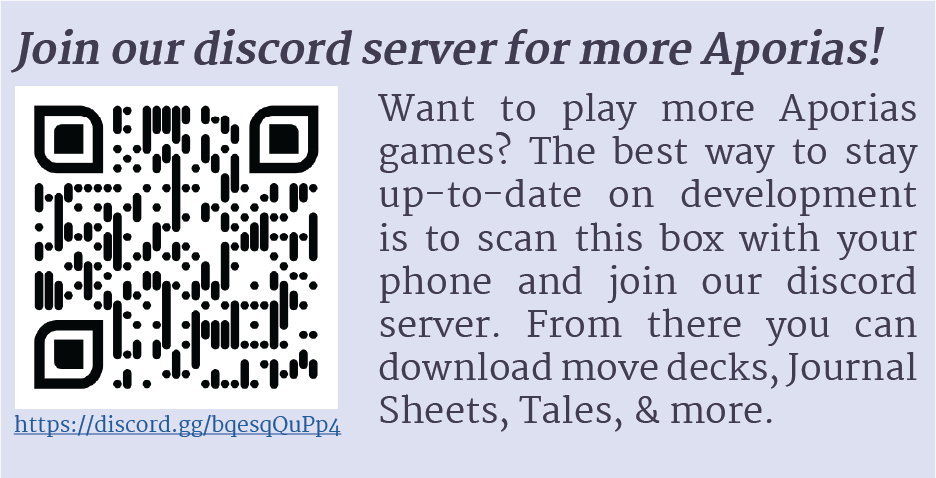 Tales
The Way I Heard it
On the quiet streets of the sprawling city Beltac, 2 star-crossed lovers met. Or 4 lovers met. Or it might have been more. The lovers are people who blunder and bungle their advances, make things more awkward than amorous, and let precious time slip through their fingers.
Luckily, in Beltac there's always more than one way to tell a good Tale. After each moment the lovers share, you will have the chance to go back and revise what happened and how your character acted by playing out the moment again... and again and.. again and again and again.


Quest Time
If you believe the rumors whispered through the Olive Gardens, the great stone doors of the Wishing Chamber have groaned open once more. A tome stolen from the archive of an ancient Wizard claims that the chamber will grant 3 heroes a single wish each, before becoming inert for another generation. It's a foolhardy quest to try to find the chamber, there isn't much at all to go on. But maybe you don't have a lot to
lose.

Wizard Court
Sometimes, plain-jane justice
just won't cut it. Maybe it's too
slow, too lenient, or too sensible.
Or maybe you just love chaos.
You've decided to seek out the
Wizard Court.
In Wizard Court, you can appeal
powerful sorcerers to enforce
their ancient code. Instead of legal
penalties, ironic, supernatural
punishments are doled out to

all parties based on the wizards'
whimsical temperaments.
Everybody who shows up in
wizard court gets a curse
.
B
e
prepared to spin things your way
by any means necessary.
Currently included in this demo:
One 56 page playable system and supplement
Three ~15 page Tales
Follow us:

Download
Click download now to get access to the following files:
Aporias-rulebook-full.pdf
24 MB
quest time-new-final.pdf
3 MB
The Way I Heard It-final.pdf
1 MB
wizard court-final.pdf
1 MB